Black History Month Wales 2019 Swansea Launch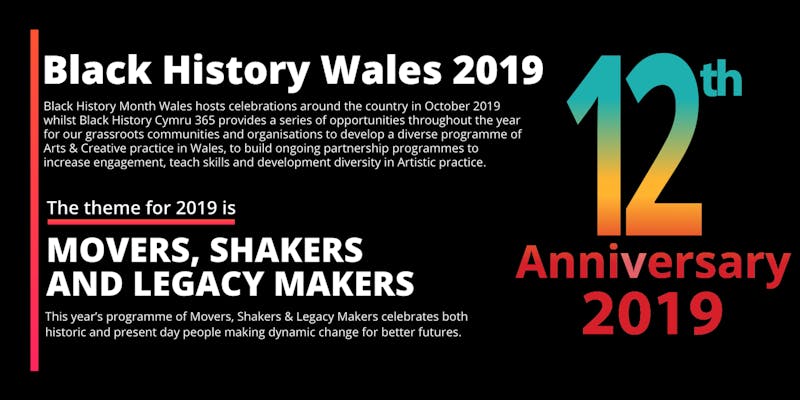 Black History Month Wales 2019 Swansea Launch | Movers, Shakers & Legacy Makers
Swansea | Swansea Grand Theatre Arts Wing | Depot theatre
Saturday 19 October 2019 | 2pm to 6pm
The Swansea family launch event will be a collaboration between Race Council Cymru and the BAME Cultural Hub partners, led by the African Community Centre, Nigerians in Wales Association, Congolese
Association and supported by Chinese in Wales Association, Indian Society of South West Wales, Bangladeshi Community, Turkish Community, Palestinian (incorporating Syrian) Society of Wales, Jewish Community, Thai Community, Women4 Resources, Swansea Women's Asylum Seeker and Refugee Support Group, Peacemala and Aber Taiko (Japanese drumming).
Hosted by the City & County of Swansea in the Swansea Grand Theatre Arts Wing, the BHMW2019 Swansea launch will programme a series of staged music and dance performances supported by surrounding activities of 'have a go musical instrument sessions'.
Pop up multicultural food stalls in place for event in partnership with UWTSD Catalyst Project | Urban Foundry
Contacts for queries and to get involved:
Kay Denyer [email protected] 07809 721047
Uzo Iwobi OBE [email protected] 07838 360979
Adele Dunstan [email protected]
Black History Month Wales hosts celebrations around the country in October 2019 whilst Black History Cymru 365 provides a series of opportunities throughout the year for our grassroots communities and organisations to develop a diverse programme of Arts & Creative practice in Wales, to build ongoing partnership programmes to increase engagement, teach skills and development diversity in Artistic practice.